Bridging the Gap
In 2015, the United Nations (UN) issued the Sustainable Development Goals (SDGs) as a universal call to action to "end poverty, protect the planet and improve the lives and prospects of everyone, everywhere" by the year 2030.
With the 17 SDGs being interconnected with action in one area affecting outcomes in another, different stakeholders from around the world must work together in order to solve the most pressing challenges that our world faces today.
As of 2022, the Organisation for Economic Co-operation and Development estimates that the annual UN SDG financing gap has risen from US$2.5 trillion (pre-COVID) to US$3.7 trillion. The vision of a sustainable future for us and generations to come is anchored in our collective abilities to address this shortfall. Bridging this gap will require all forms of capital and practitioners, whether public, private, or philanthropic, to come together and work towards generating positive impact for people and planet.
This is the time for collective action among governments, businesses, investors, research institutions, philanthropic organisations, NGOs, and the community.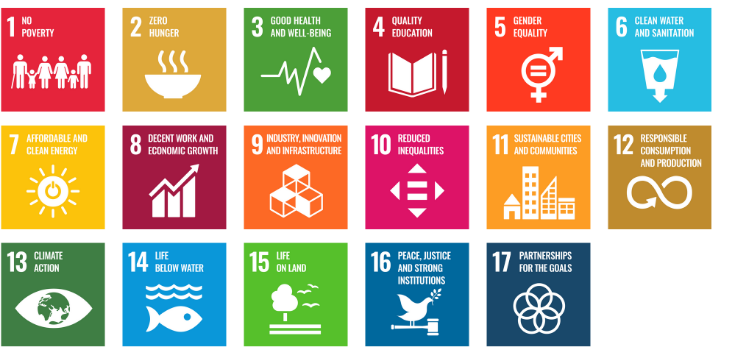 An Impact-Oriented Future
The impact landscape spans a spectrum of approaches and strategies pursued by a variety of players operating at different stages of their respective impact journeys.
From an investor's perspective, impact-oriented investments cover a broad range of strategies, varying from responsible investing to venture philanthropy. Today, ESG factors set the baseline and the minimum threshold for responsible businesses to avoid harm and are integrated into a growing majority of mainstream investment decision-making. Impact investors go beyond ESG. They are intentional with their capital and seek to finance solutions to social or environmental challenges via the entrepreneurs and businesses that they back.
While impact investing does not equate to a sacrifice in profit and often generates well above market rate returns, it is true that impact-oriented investments bring a range of expected returns, from market rates to concessionary returns. In some cases, such as venture philanthropy, investors may seek no financial return at all, but do evaluate the promise of commercial viability of their investments as an important criterion.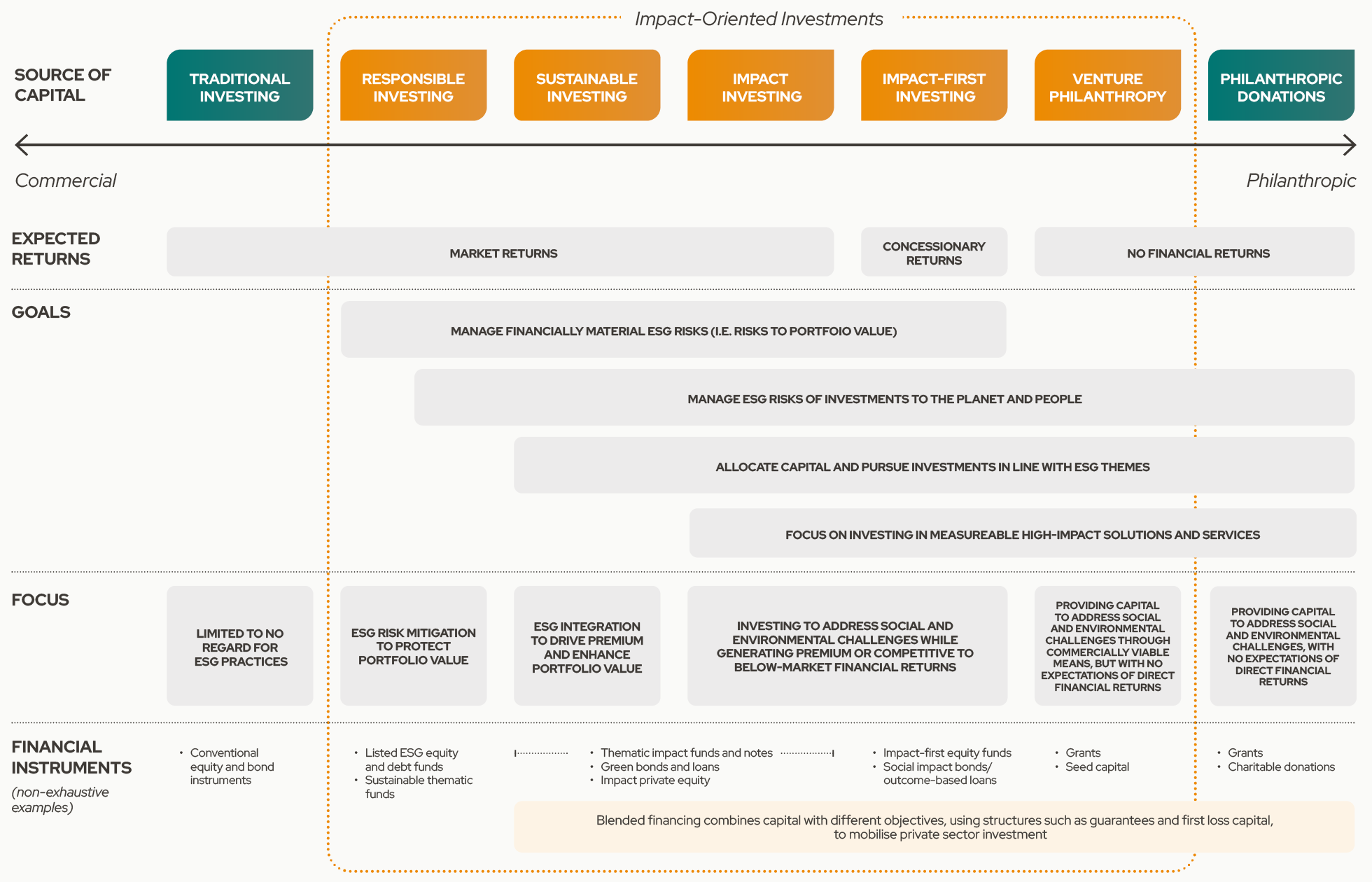 Source: Adapted by CIIP, SMU, and Accenture, based on the UNDP, Credit Suisse, Bridges Fund Management, The Impact Investing Institute, and PwC
Similar to the case of investors, impact-oriented companies adopt a range of approaches and strategies to impact. Indeed, impact orientation – albeit to different degrees – is increasingly adopted by established businesses, while a growing breed of entrepreneurs is building businesses with impact at its core, applying market forces to solve social and environmental problems.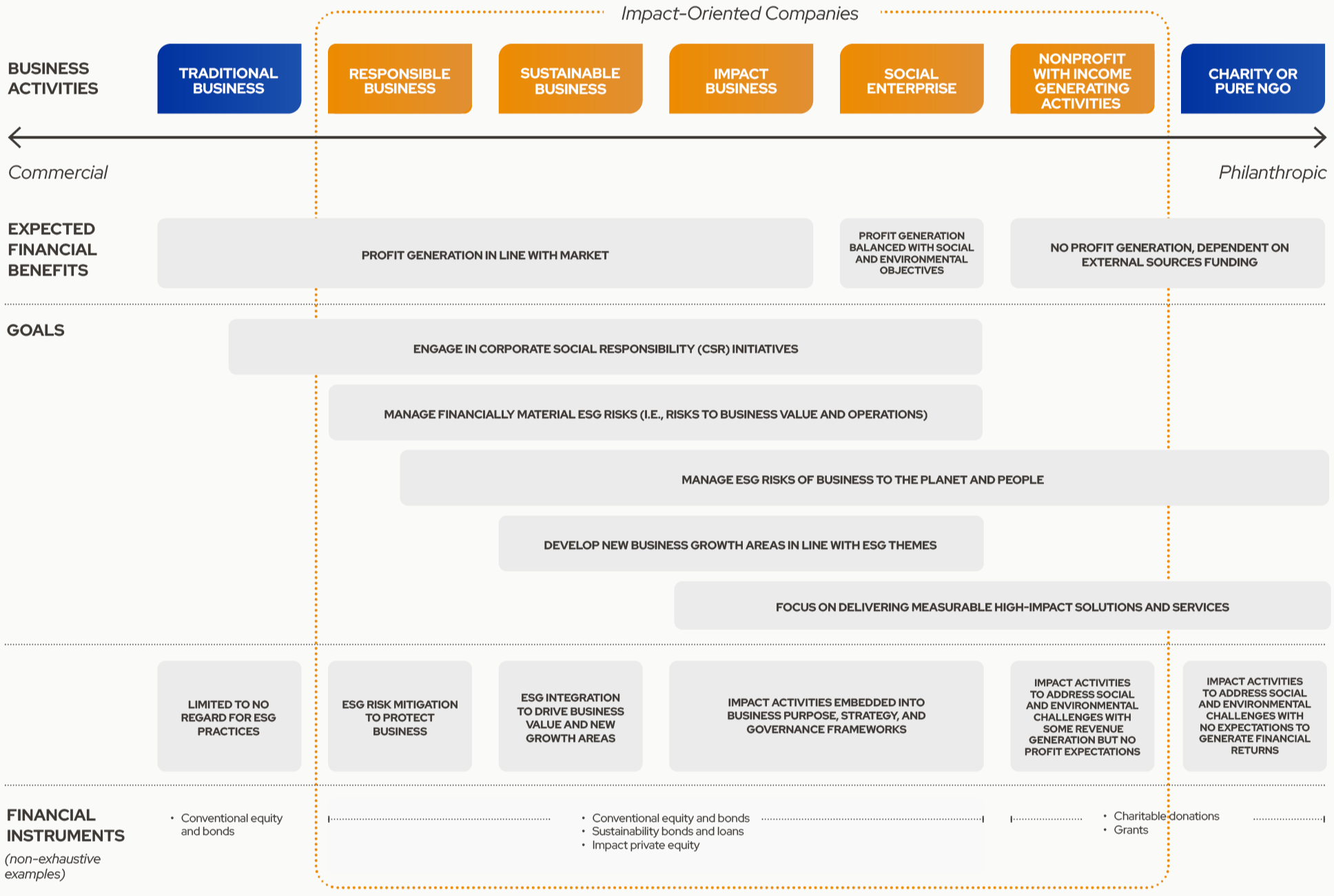 Source: Adapted by CIIP, SMU, and Accenture, based on the UNDP and Brown University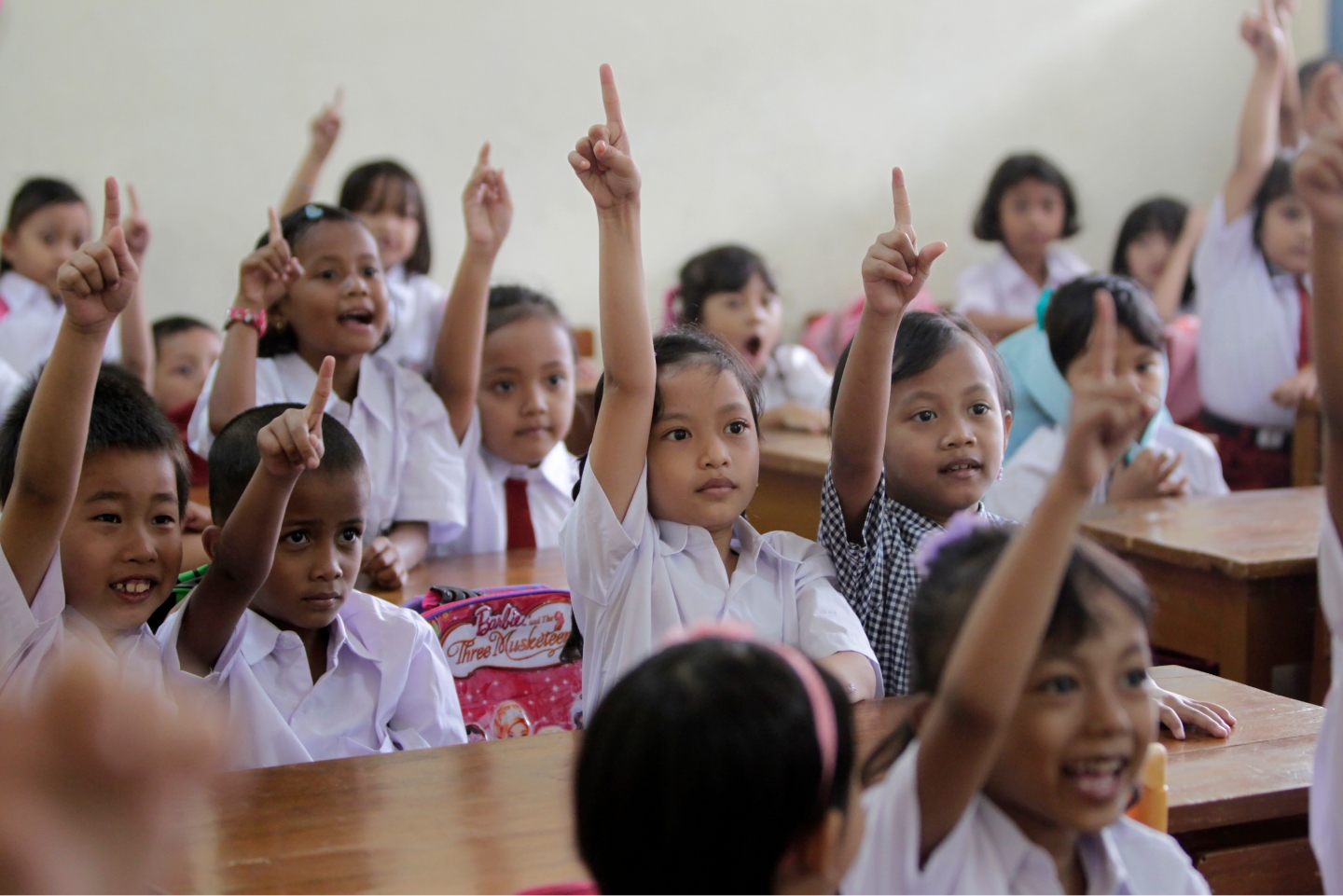 What Is Impact Investing?
To achieve a sustainable future for all mankind, the world needs companies that can drive positive change at scale through products and services. Impact investing can spur the growth of such companies and help advance solutions to address the social and environmental challenges the world faces today.
Impact investing has been defined by the Global Impact Investing Network (GIIN) as "investments made with the intention to generate positive, measurable social and environmental impact alongside a financial return".
To underscore the importance of authenticity, the International Finance Corporation (IFC) has set out in its Operating Principles for Impact Management that investors and companies must have intentionality and accountability to measure the impact they generate, both positive and negative.
"Investing for impact is at a critical inflection point today, where there is a growing need for stakeholders to establish and adopt independent international standards, practical tools, and consistent practices.
With Asia's diverse communities and deep impact potential, having common management practice standards in areas such as data collection and impact measurement is crucial. To strengthen impact integrity, market trust and confidence, managing for impact must be underpinned by assurance. All of these elements combined will drive the momentum further for impact investing here.
As the anchor partner for UNDP in Asia, Temasek Trust and its CIIP is well-positioned to engender the development of investing for the SDGs and support the UNDP's mission towards a sustainable future for everyone."
- Marcos Athias Neto
Director, UNDP Sustainable Finance Hub
"More global investors and companies today are recognizing the need to chart clear pathways towards sustainability. Asia will be instrumental to achieving the Sustainable Development Goals, given its deep potential for generating impact at scale. Through research, collaboration, and action, the CIIP is building an ecosystem that will shape the future of impact investing in Asia."
- Amit Bouri
CEO and Co-Founder of the GIIN
"Impact investing is no doubt a critical tool to close the SDG gaps in Asia, but for this sector to flourish, it requires all stakeholders to collaborate. As the world's largest network of Social Investors in Asia, we at AVPN are thrilled to see the launch of CIIP; a knowledge hub to bring such stakeholders together to take positive action."
- Naina Subberwal Batra
Chairman and CEO of AVPN
Impact In Asia - An Outsized Opportunity
The impact investing momentum is building across Asia as more stakeholders recognise that profits can be pursued alongside purpose. The UNDP SDG Impact's work on Investor Maps has highlighted a number of Investible Opportunity Areas across Asia that contribute to addressing the SDGs while generating attractive financial returns.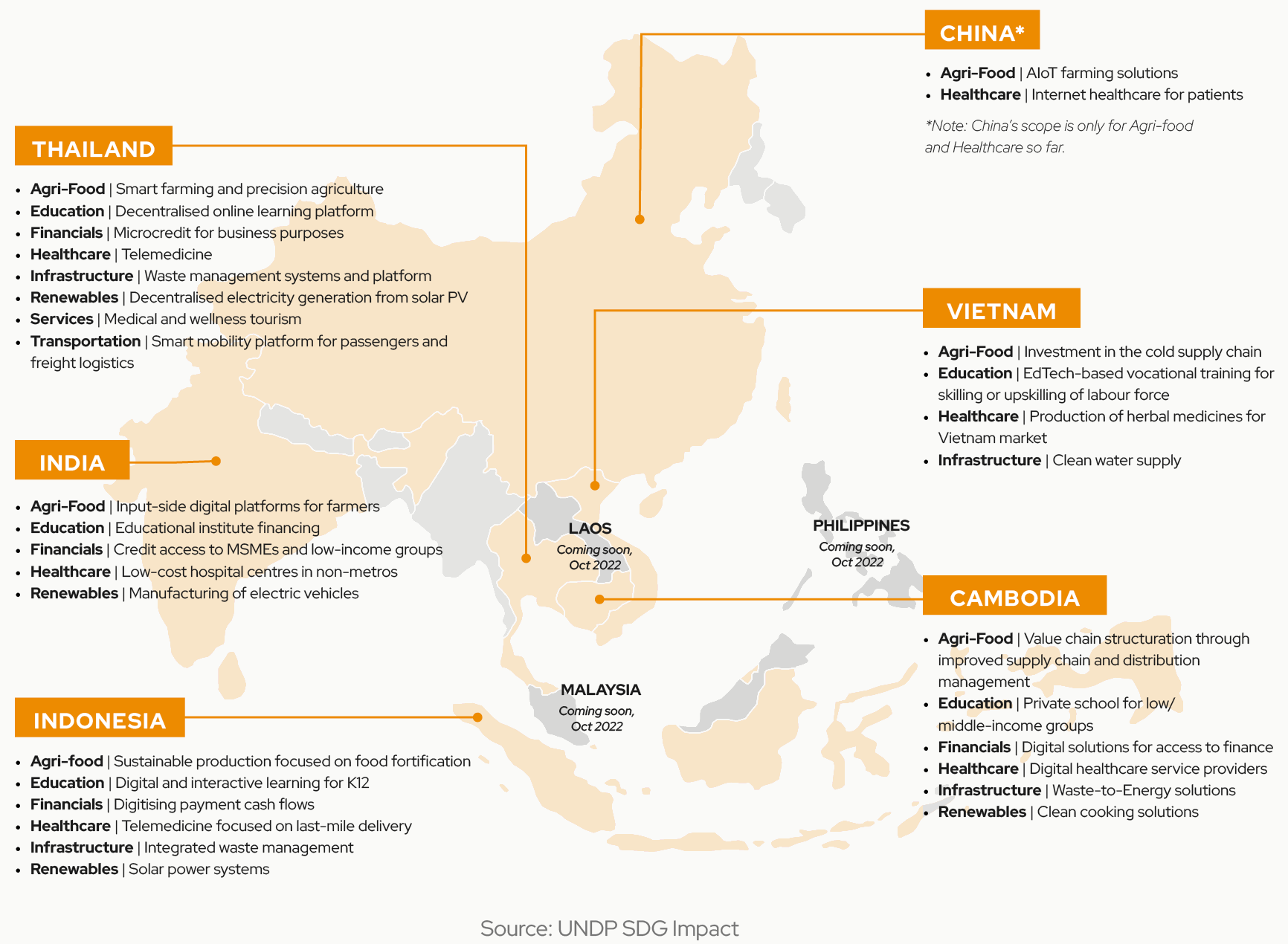 There are many factors that underpin Asia's potential for impact at scale. Here are some key factors that we believe anchor Asia's impact potential: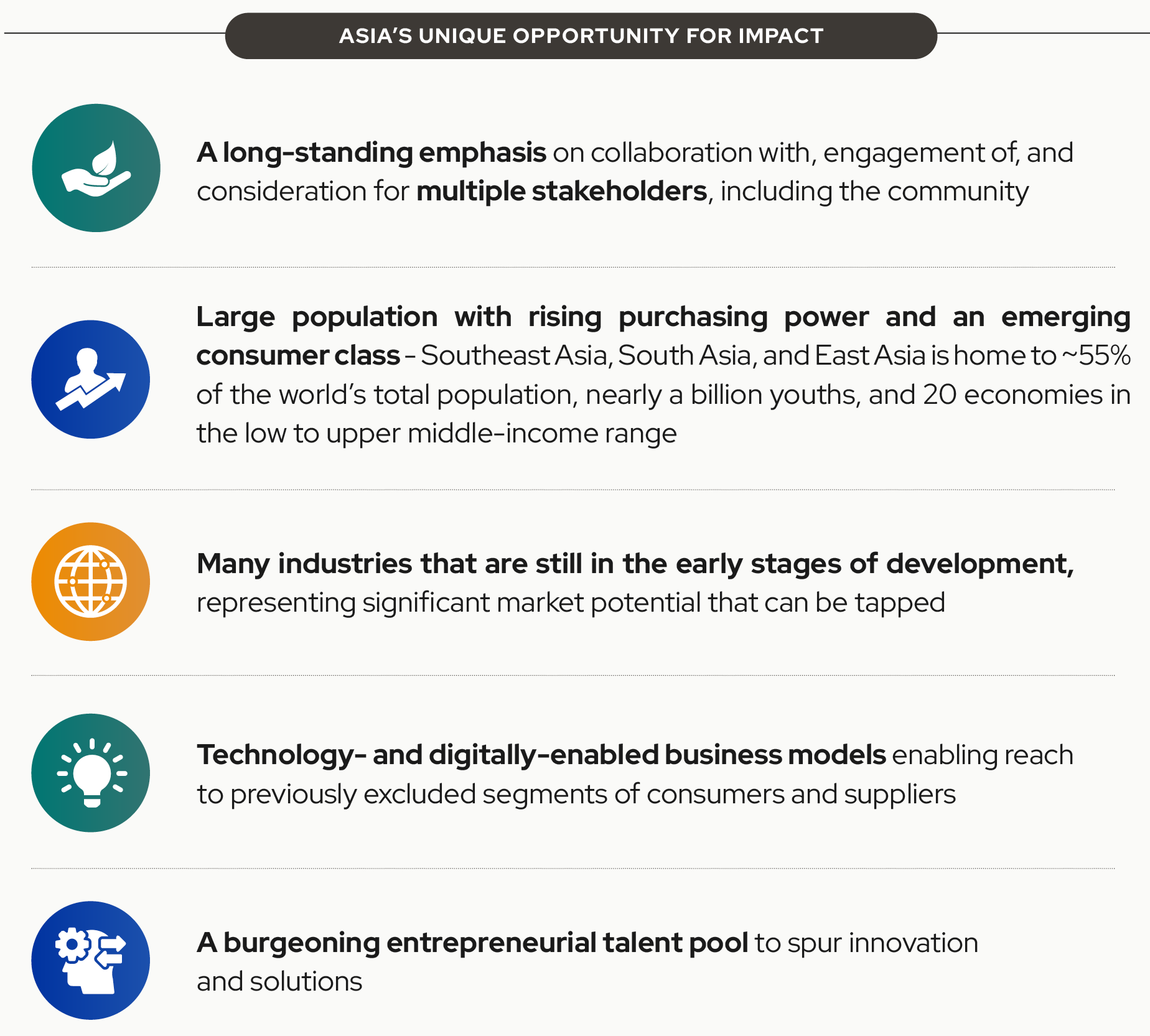 This is adapted from our 2022 report "Scaling Impact in Asia: Achieving Purpose and Profit, by CIIP, Accenture and SMU".
Stay in touch
Leave us your contact to receive updates from the Centre for Impact Investing and Practices
Subscribe