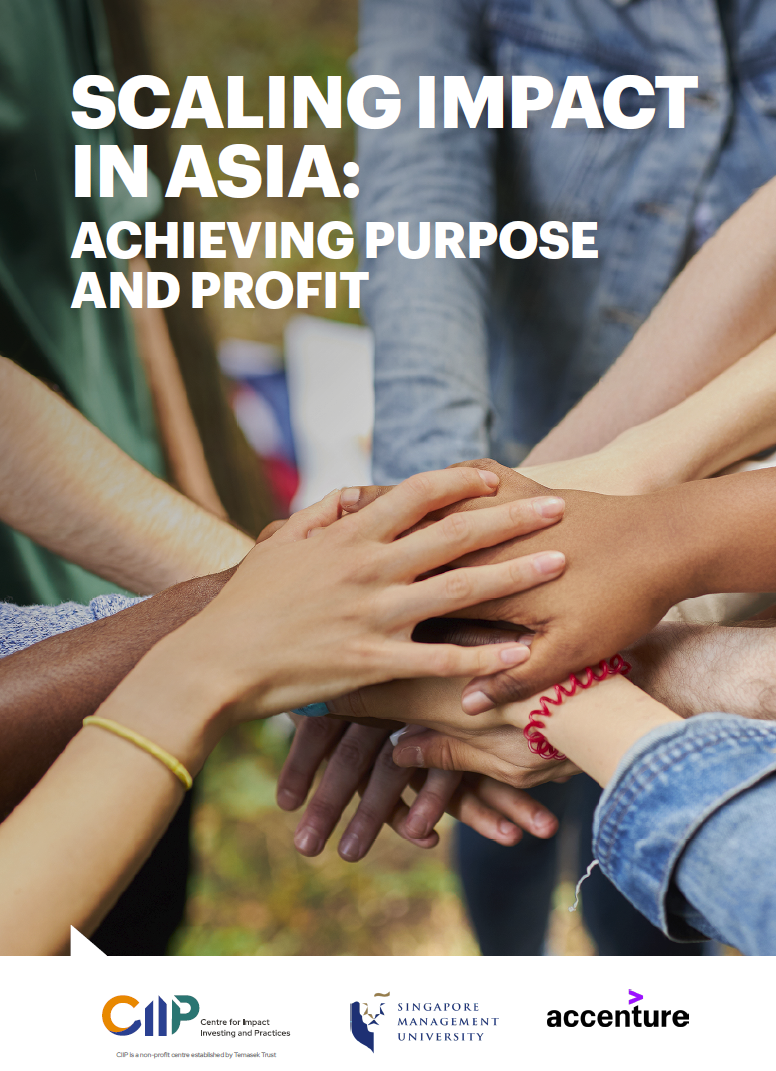 Scaling Impact in Asia:
Achieving Purpose and Profit
Overview
The Centre for Impact Investing and Practices ("CIIP"), together with Accenture and Singapore Management University, developed this field report to achieve three objectives:
To illustrate the on-the-ground conversations about impact investing and practices that we hope to engender;
To raise awareness of the inspiring impact work that is already underway in Asia; and
To convene more discussions on how we can collectively deliver more impact in Asia, for Asia.
The report shares insights from in-depth interviews and discussions with investors and businesses. It features case studies on the impact journeys of regional players and puts forward preliminary ideas on how we can advance the impact ecosystem in Asia together.
This field report is the first of many that CIIP will produce. Future iterations will go further into the field, delve deeper into specific impact topics, and bring to life more stories to inspire.
Insights from Practitioners in Asia
Between January and April 2022, we conducted interviews with many investors and businesses across the impact space in Southeast Asia, India, and China. In this report, we summarise the key learnings and insights from our rich discussions, which covers broad topics of impact motivation, strategy, measurement, accountability, challenges, and success.
Download the report here.
"Investing for impact is at a critical inflection point today, where there is a growing need for stakeholders to establish and adopt independent international standards, practical tools, and consistent practices.
With Asia's diverse communities and deep impact potential, having common management practice standards in areas such as data collection and impact measurement is crucial. To strengthen impact integrity, market trust and confidence, managing for impact must be underpinned by assurance. All of these elements combined will drive the momentum further for impact investing here.
As the anchor partner for UNDP in Asia, Temasek Trust and its CIIP is well-positioned to engender the development of investing for the SDGs and support the UNDP's mission towards a sustainable future for everyone."
- Marcos Athias Neto
Director, UNDP Sustainable Finance Hub
"More global investors and companies today are recognizing the need to chart clear pathways towards sustainability. Asia will be instrumental to achieving the Sustainable Development Goals, given its deep potential for generating impact at scale. Through research, collaboration, and action, the CIIP is building an ecosystem that will shape the future of impact investing in Asia."
- Amit Bouri
CEO and Co-Founder of the GIIN
"Impact investing is no doubt a critical tool to close the SDG gaps in Asia, but for this sector to flourish, it requires all stakeholders to collaborate. As the world's largest network of Social Investors in Asia, we at AVPN are thrilled to see the launch of CIIP; a knowledge hub to bring such stakeholders together to take positive action."
- Naina Subberwal Batra
Chairman and CEO of AVPN
Stay in touch
Leave us your contact to receive updates from the Centre for Impact Investing and Practices
Subscribe